Prefatory Materials

Images and Texts

Associated Images and Texts

Critical Essays

Supporting Materials
Livingstone's Missionary Travels Manuscript (1857)
Cite (MLA): Livingstone, Justin D., and Adrian S. Wisnicki, eds. "Project Team." In Livingstone's Missionary Travels Manuscript. Justin D. Livingstone and Adrian S. Wisnicki, dirs. Livingstone Online. Adrian S. Wisnicki and Megan Ward, dirs. 2019. Web. http://livingstoneonline.org/uuid/node/95327f02-edc7-4690-8add-8ec081abbef3.
---
This page introduces the project team that developed the critical edition of Livingstone's Missionary Travels manuscript (1857).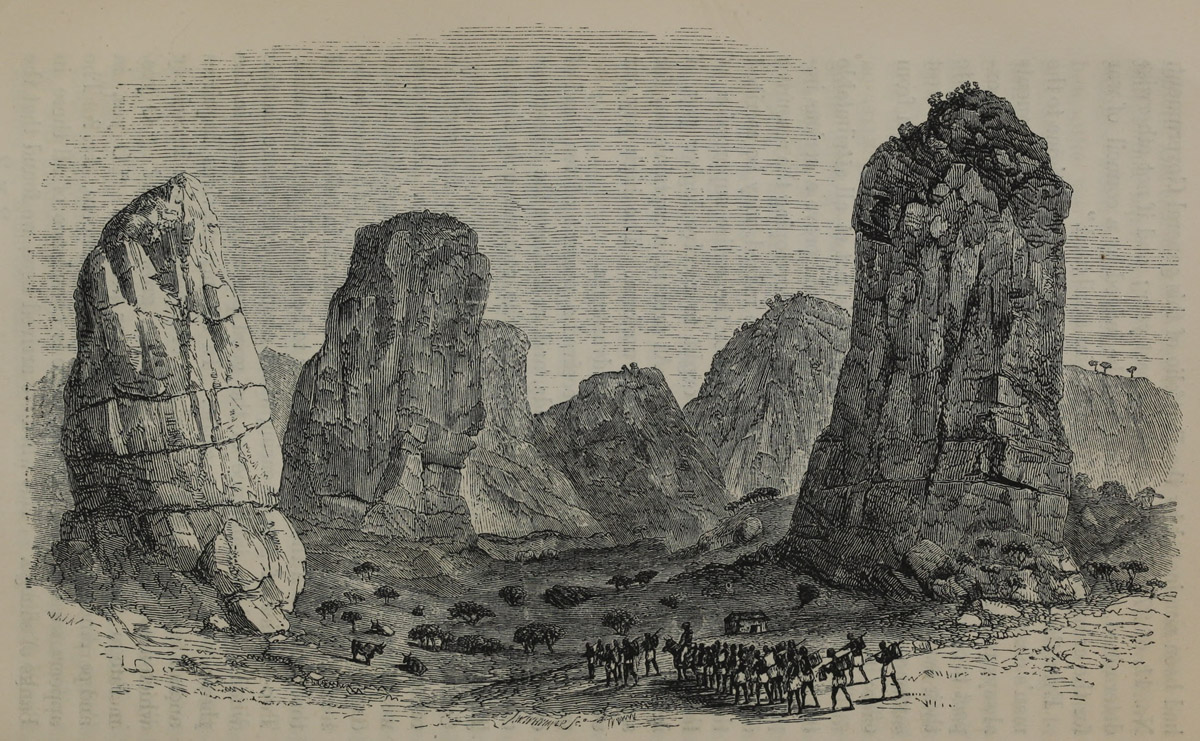 A few of the Rocks of Pungo Andongo, as seen from Col. Pires' House at Cahuey, with the Makololo Party Passing. Illustration from Missionary Travels (Livingstone 1857aa:opposite 420). Courtesy of the Internet Archive. Although pictured from a distance, this illustration of Livingstone's party travelling through north-western Angola in 1854 is a reminder that Livingstone's transcontinental expedition was not an individual effort but was heavily reliant on the collaboration and support of the Makololo.
Leadership and Scholarship
Justin D. Livingstone (Queen's University Belfast) – Director, Lead Scholar, Lead Editor
Adrian S. Wisnicki (University of Nebraska-Lincoln) – Director, Lead Project Developer
Scholarship Support
Kate Simpson (Edinburgh Napier University; Queen's University Belfast) – MHRA Research Associate, Project Scholar, Critical Encoding/Editing Specialist
Stephen Hall (University of Glasgow) – Project Scholar, Critical Encoding/Editing Specialist
Johanna Green (University of Glasgow) – Critical Encoding/Editing Specialist
Peter Slater (University of Glasgow) – Critical Encoding/Editing Specialist
Heather F. Ball (St. John's University) – Critical Encoding/Editing Specialist
Jared McDonald (University of the Free State) – Associate Project Scholar
James Cummings (Newcastle University) – TEI Consultant
Site Development
Nigel Banks – Site Developer
Honorary Members
David McClay (University of Edinburgh)
Alison Metcalfe (National Library of Scotland)