Prefatory Material

Spectral Images and Texts

Critical Essays

Supporting Materials

Image Processing Information

Project History and Documentation
Livingstone's 1870 Field Diary
Cite page (MLA): Wisnicki, Adrian S., and Megan Ward. "Acknowledgments." In Livingstone's 1870 Field Diary. Adrian S. Wisnicki and Megan Ward, dirs. Livingstone Online. Adrian S. Wisnicki and Megan Ward, dirs. University of Maryland Libraries, 2017. Web. http://livingstoneonline.org/uuid/node/8ef66730-cfc0-4101-9760-ecbb6f710bc8.
---
This page cites the individuals who have made a special contribution to supporting our work in developing the multispectral critical edition of Livingstone's 1870 Field Diary and select 1870-71 letters.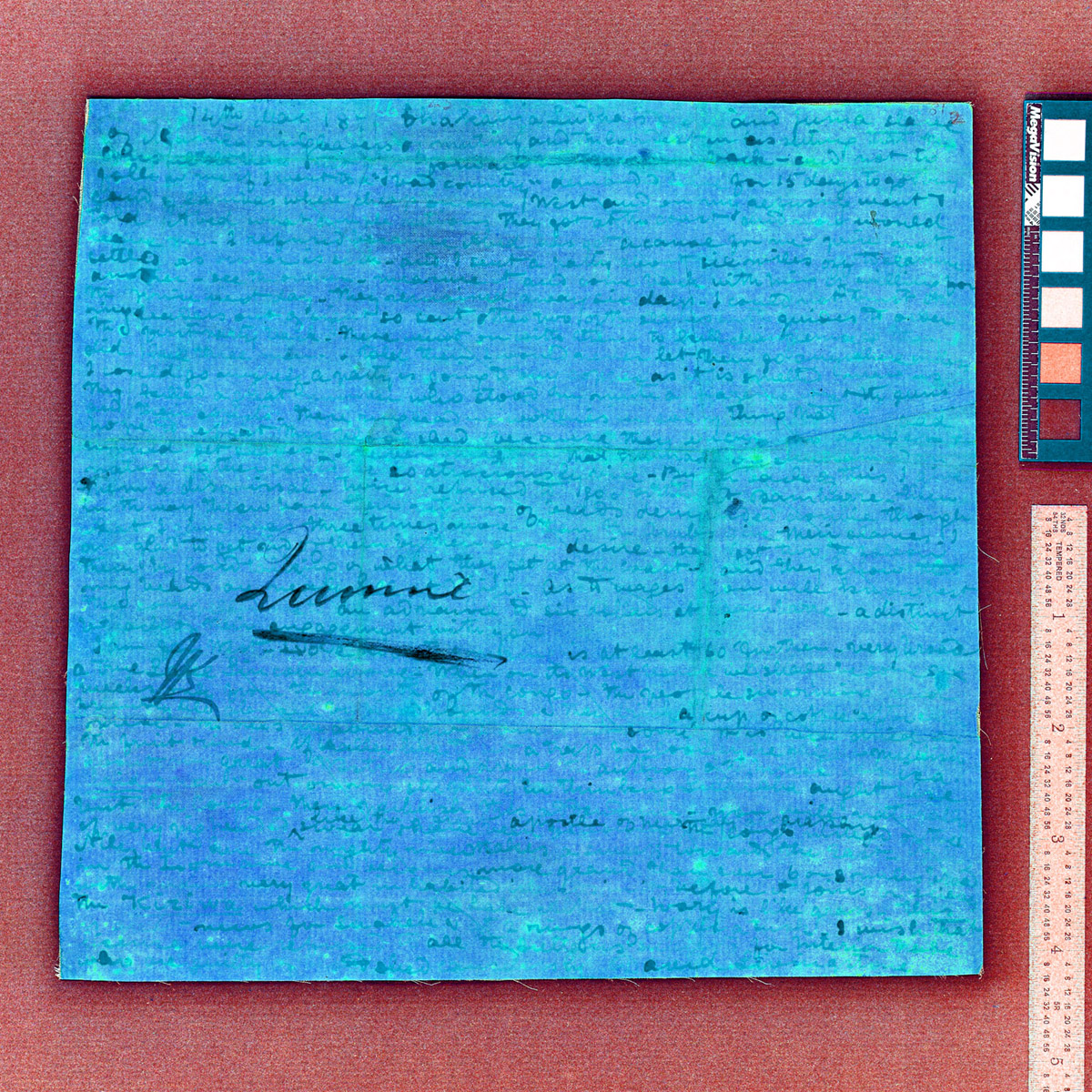 A custom processed spectral image of a page from Livingstone's letter to John Kirk 2, 14 May 1871 (Livingstone 1871i:[1] spectral_ratio, with hue rotated to -46). Copyright National Library of Scotland and, as relevant, Neil Imray Livingstone Wilson. Creative Commons Attribution-NonCommercial 3.0 Unported. Livingstone wrote this letter over a piece of paper that Kirk used to send Livingstone quinine. The processing suppresses nearly all of Livingstone's letter and instead foregrounds Kirk's original text: "Quinine" and "JK".
It has been an immense privilege to work on this phase (2013-17) of the Livingstone Spectral Imaging Project. The members of the project team are grateful to the individuals below who have supported our work and to those individuals who supported the first phase of the project (2010-13), as that phase laid some of the groundwork for the current phase.
We also wish to acknowledge the National Endowment for the Humanties (USA), our collaborating institutions, and the extraordinary staff at these institutions, particularly the David Livingstone Centre, the National Library of Scotland, University of Nebraska-Lincoln, and the University of Maryland Libraries. Without the generous assistance of these individuals and institutions, the project would not have gone forward.
Additionally, the project director Adrian S. Wisnicki would like to single out two individuals for their support. The first, Marco Abel (University of Nebraska-Lincoln), has been an immense friend to the project and his support will not be forgotten. The second, Liz Maxwell, the director's wife, has believed in our work beginning to end like no one else, and so to her the director's work on this project is dedicated.
Noelle A. Baker (Independent Scholar)
Bill Christens-Barry (Equipoise Imaging, LLC)
Kim Bell (Point Park University)
Peter Betjemann (Oregon State University)
Ken Boydston (Megavision, Inc.)
Helen Bradley (University of Edinburgh)
Mark Burnett (Queen's University Belfast)
Emma Cockburn (University of Edinburgh) 
Julie Dexter (University of Nebraska-Lincoln)
Lawrence Dritsas (University of Edinburgh)
Belinda Gillam (University of Nebraska-Lincoln)
Anita Helle (Oregon State University)
Laura Kiernan (Modern Language Association)
Chris Lawrence (University College London)
Justin Livingstone (Queen's University Belfast)
Jared McDonald (Free State University)
LeAnn Messing (University of Nebraska-Lincoln)
Alex Murray (Queen's University Belfast)
Ken Price (University of Nebraska-Lincoln)
Daniel Sack (National Endowment for the Humanities)
Annette Shipley (University of Nebraska-Lincoln)
John Thompson (Queen's University Belfast)
Michael B. Toth (R.B. Toth Associates)
Kay Walter (University of Nebraska-Lincoln)
Sally Wheeler (Queen's University Belfast)
Edward Whitley (Lehigh University)
Pip Willcox (University of Oxford)
Joel Wurl (National Endowment for the Humanities)