Prefatory Materials

Images and Texts

Critical Materials
Livingstone's Manuscripts in South Africa (1843-1872)
Cite page (MLA): Wisnicki, Adrian S., and Jared McDonald. "Building the Edition." In Livingstone's Manuscripts in South Africa (1843-1872). Jared McDonald and Adrian S. Wisnicki, dirs. Livingstone Online. Adrian S. Wisnicki and Megan Ward, dirs. University of Maryland Libraries, 2018. Web. http://livingstoneonline.org/uuid/node/e309f24f-eb66-4b3e-8eb3-5db726b65e5f.
---
This essay offers a short reflection on the implications of building an edition of Livingstone manuscripts in South Africa (1843-72). The essay outlines our strategies in addressing cultural issues raised by our source materials, but also discusses some of the limitations of our work.
In South Africa, the written and visual legacies of David Livingstone have a complex resonance. This complexity grows out of the country's history of colonization and racial segregation, and extends to the issue of access to Livingstone's manuscripts, in the past and the present, in theory and in actual fact.
In building our edition, we have sought to be sensitive to the larger historical picture and to structural inequalities that continue to inform the post-apartheid era and engagement with Livingstone's materials. In the latter stages of our project, we also became increasingly attuned to changes in digital humanities discourse. Questions of project participation have become much more prominent today (2018) than they were even five years ago, when the present edition was first taking shape.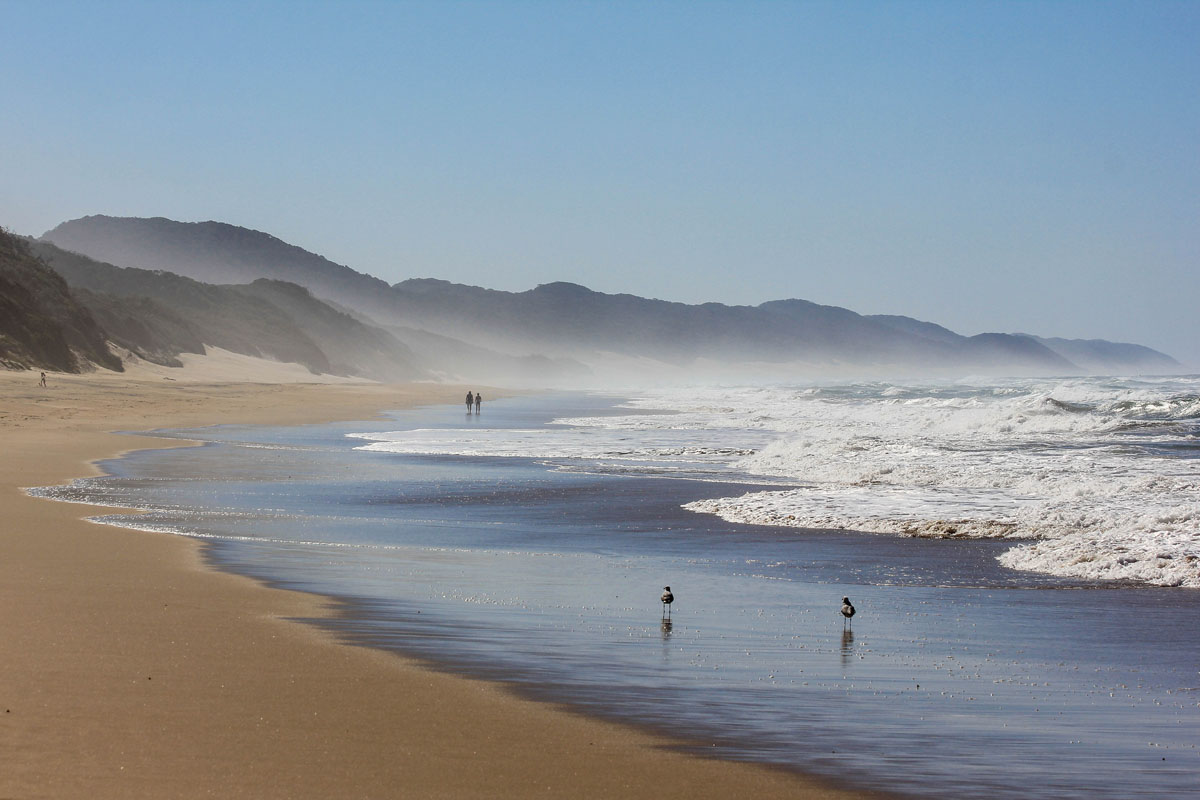 The Indian Ocean, South African shore. Copyright Angela Aliff. Creative Commons Attribution-NonCommercial 3.0 Unported. The directors had access to many such South African landscape images, but generally avoided using them to illustrate the present edition. While such images offer authentic views of South Africa and can have aesthetic merit in their own right, the images are also problematic. In the nineteenth century such images, which depicted South Africa (and other parts of Africa) as a series of empty or nearly empty landscapes (i.e., devoid of non-western populations who might rightly lay claim to territorial rights), played a key role in supporting imperial colonization schemes and in justifying the forceful dispossession of indigenous or settled populations. In the present day, such images (and images of various African animals) continue to predominate in western popular representations of South Africa and other Sub-Saharan African countries, and so help perpetuate representations of the continent rooted in nineteenth-century imperial ideology.
Our edition has drawn on a variety of strategies to address such issues. We have used our critical materials to present reflective historical analysis on topics such as "Representations of African Peoples" and "Phrenology and Scientific Racism." We have sought to reference visually – but with critical textual remediation wherever relevant – the historical and present-day contexts in which Livingstone's legacies have evolved and continue to be preserved, including the roles of the many individuals involved in this process. Using the example of the South African context, we have also tried to upend, in both subtle and explicit ways, received western stereotypes of "Africa" more generally. Our edition, like the rest of Livingstone Online, is open access and responsive, thereby ensuring that it can be consulted in full by users, including South African users, working with a variety of devices.
Yet, we also realize that there are limitations to our work, particularly in terms of the voices that our project represents, both historical and contemporary. In the former case, this is due to gaps in the written historical record. In the latter case, since our project lacked external funds, we were compelled to prioritize volunteer contributions and built the project team in an ad hoc fashion. We did not begin to appreciate, until later on, the benefits that strategic recruitment of project staff might have to enhancing the inclusivity of our critical approaches.
We consider the publication of our edition to be a significant contribution to Livingstone Online. The edition expands the primary and secondary materials available from our site and, for the first time, extends our collaborative work to southern Africa. This is a major step forward. However, through the process of building the edition, we have likewise come to appreciate that there is room for further improvement in our work and in the participants we include in our project, particularly as we move onto new initiatives. We ask our users to take these points under consideration as they engage with our edition and to approach the edition not as an endpoint, but as the next stage in an ongoing and evolving  process of thoughtful site development.