Prefatory Materials

Spectral Images and Texts

Critical Essays

Supporting Materials

Image Processing Information

Additional Pages

Project History and Documentation
Livingstone's 1871 Field Diary
Cite page (MLA): Wisnicki, Adrian S. "Acknowledgments." In Livingstone's 1871 Field Diary. Adrian S. Wisnicki, dir. Livingstone Online. Adrian S. Wisnicki and Megan Ward, dirs. University of Maryland Libraries, 2017. Web. http://livingstoneonline.org/uuid/node/9e2b973a-2e2a-4f0e-b590-eeb58d0a8e6e.
---
This page cites the individuals who made a special contribution to supporting the work in developing the multispectral critical edition of Livingstone's 1871 Field Diary in 2010-13. Institutional affiliations below date to 2013, although some of these have since changed.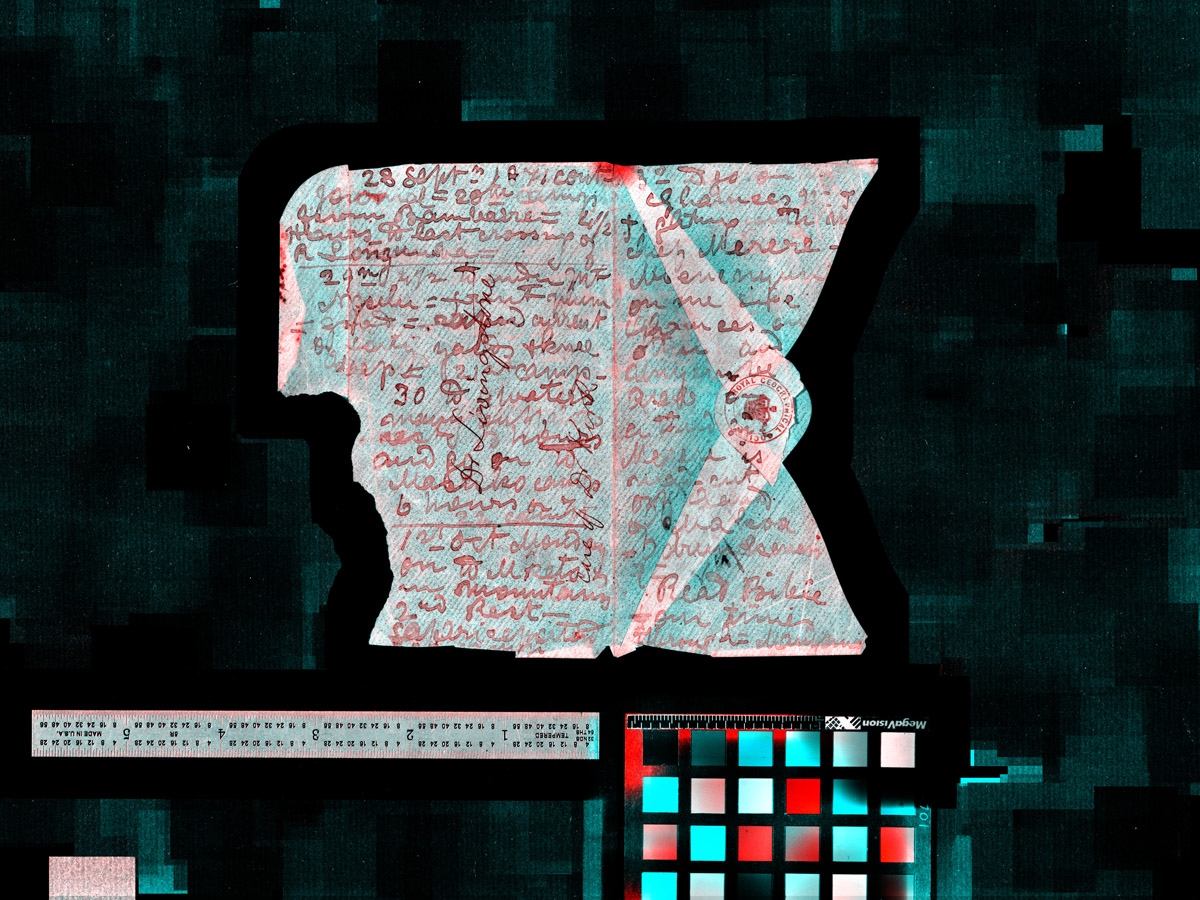 A processed spectral image of two pages of the 1871 Field Diary (Livingstone 1871l:[1]-[2] pseudo_v1). Copyright David Livingstone Centre, Blantyre. As relevant, copyright Dr. Neil Imray Livingstone Wilson. Creative Commons Attribution-NonCommercial 3.0 Unported. Livingstone has written this fragment over an envelope sent to him (care of John Kirk) by the Royal Geographical Society (RGS). The seal of the RGS appears at right, while the vertical undertext on the left is the original address to Livingstone in another hand.
The opportunity to work on this project has been both amazing and humbling – amazing because it has brought me into contact with so many wonderful people in so many fields, at so many different institutions; humbling because throughout the project I have never ceased to marvel at the kindness of these individuals (including the tireless members of my team), at the generosity of these institutions, and at the willingness of all to help and give their time selflessly whenever I contacted them. Please consider this project to be yours also. It will help me discharge the lifetime's debt I've now built up with many of you.
If your name does not appear below and it should, please let me know. A few obvious names are missing, but that's because I've named you Honorary Members of our project team in recognition of the exceptional support you've provided to our work.
Thank you very much to everyone. I am grateful beyond words. You have let me dream my biggest dream yet.
---
James Eli Adams (Columbia University)
Ulrike Al-Khamis (University of Edinburgh)
Denise Anderson (University of Edinburgh)
Jo Anthony (National Trust for Scotland)
Yaw Asamoah (Indiana University of Pennsylvania)
Chris Avann (National Library of Scotland)
Eva Badowska (Fordham University)
Peter and Nejma Beard (Peter Beard Studio)
Brett Bobley (National Endowment for the Humanities)
Tricia Boyd (University of Edinburgh)
Keith Boyer (Indiana University of Pennsylvania)
Roy C. Bridges (University of Aberdeen)
British Academy
British Library
Janet Brown (Harvard University)
Alison Buckley (National Library of Scotland)
Karen Carruthers (David Livingstone Centre)
Bryan Christie (National Library of Scotland)
Gary Clendennen (Nara University)
Perry Collins (National Endowment for the Humanities)
Adam Colton (Indiana University of Pennsylvania)
Frances Cook (Royal Botanic Gardens, Kew)
Helen Creasy (Scottish Conservation Studio)
James Cummings (University of Oxford)
Ian Cunningham (National Library of Scotland)
Sarah Cuthbert-Kerr (David Livingstone Centre)
David Downing (Indiana University of Pennsylvania)
Jeff Drouin (University of Tulsa)
Linda Dryden (Edinburgh Napier University)
Paul Dundas (University of Edinburgh)
Carly Dunn (Indiana University of Pennsylvania)
Marie Dunsmuir (National Library of Scotland)
Emma Faragher (National Library of Scotland)
Gustavo Fermin (Peter Beard Studio)
Adrian Fowler (National Library of Scotland)
Fenella France (Library of Congress)
Michelle Fryling (Indiana University of Pennsylvania)
Caroline Garrad (National Library of Scotland)
Anna Maria Gillis (National Endowment for the Humanities)
Jonas Fossli Gjerso (London School of Economics)
Luis Gonzales (Indiana University of Pennsylvania)
Todd Grappone (UCLA Library)
Michael Hall (National Endowment for the Humanities)
N. John Hall (City University of New York)
Katherine Harris (San Jose State University)
Michael Hawkins (University of Sussex)
Dorothy Helly (City University of New York)
Martin Hodkinson (Birkbeck, University of London)
Danielle Hontz (UCLA Library)
Jennifer Howard (Chronicle of Higher Education)
Anne Humpherys (City University of New York)
Gerald Intemann (Indiana University of Pennsylvania)
Rab Jackson (National Library of Scotland)
Tim Jeal
Kristin Jensen (Between the Lines Editing)
Pauline Jones (Birkbeck, University of London)
Gerhard Joseph (City University of New York)
Dane Kennedy (George Washington University)
Kate Kidd (National Library of Scotland)
Suzanne Lamb (National Trust for Scotland)
Christopher Lawrence (University College London)
Annie Lin (Indiana University of Pennsylvania)
Ian Livingstone (David Livingstone Centre)
Justin Livingstone (University of Edinburgh)
Matt MacDonagh-Dumler (Between the Lines Editing)
Manuscripts Division staff (National Library of Scotland)
Elizabeth Maxwell
Rosemary and Bill Maxwell
Lucy McCann (University of Oxford)
Frances McChlery (David Livingstone Centre)
David McClay (National Library of Scotland)
Theresa McDevitt (Indiana University of Pennsylvania)
Eric Meljac (Indiana University of Pennsylvania)
Bryony Merritt (Birkbeck, University of London)
Sharon Messenger (Wellcome Trust Centre for the History of Medicine at UCL)
George Morrison (National Library of Scotland)
John R. Murray
Will Noel (Walters Art Museum)
Caroline Overy (Wellcome Trust Centre for the History of Medicine at UCL)
The Owner of the Galen Syriac Palimpsest
Gian Pagnucci (Indiana University of Pennsylvania)
Reprographics Studio staff (National Library of Scotland)
Jason Rhody (National Endowment for the Humanities)
Katrina Roche (Royal Botanic Gardens, Kew)
Matt Rubery (Queen Mary, University of London)
Anne Schwan (Edinburgh Napier University)
Dawn Setzer (UCLA Library)
Stuart Sherman (Fordham University)
Doug Shumar (Indiana University of Pennsylvania)
John Sinclair (National Trust for Scotland)
Elaine Jacobs Smith (Indiana University of Pennsylvania)
SOAS, University of London Library
Gary Strong (UCLA Library)
Joan Sutherland (David Livingstone Centre)
Sally Todd (National Library of Scotland)
Erika Troll (UCLA Library)
Elizabeth Upper (Cambridge University)
Dana Wheeles (University of Virginia)
David White (National Library of Scotland)
Stuart Whittaker (David Livingstone Centre)
Harrison Wick (Indiana University of Pennsylvania)
Neil Imray Livingstone Wilson
Sue Wiseman (Birkbeck, University of London)
Adah Wisnicki
Joseph and Elizabeth Wisnicki
Sarah Worden (National Museums Scotland)
Tim Youngs (Nottingham Trent University)